If you are looking to buy replacement drawer boxes, Drawer Connection, Inc can help! Never Buy Cheap Drawer Boxes Again with Drawer Connection Inc. When you are building a home, doing some kitchen remodeling, or buying replacement kitchen drawers, it is tempting to save a couple bucks by cutting some corners and using cheaper products. However, there is one area where you should never go cheap, and that's with your premade drawer boxes.  Buying wooden drawer boxes from Drawer Connection means getting the high quality you want and affordable pricing! Buying quality replacement drawer boxes ensures that quality cabinetry that will last a lifetime and avoid annoying and costly repairs. People usually go crazy choosing the color, wood variety, and hardware for their cabinets but decide to buy cheap drawer boxes. These cheaply made drawer boxes wear out and fall apart long before they should. With DCDrawers.com, you can shop quality made and budget friendly drawer boxes at a price you can afford! Popular queries include: drawer box, pre-made drawers, custom drawers, replacement kitchen drawers, cheap drawer boxes, drawer box kit.
Types Of Quality Drawer Boxes We Sell
Take a look at the different types of quality drawer boxes we manufacture and sell at DCDRAWERS.COM. Dovetail corners provide an old world/high quality look and feel at an affordable price.
Advantages Of Our Affordably Priced Drawer Boxes 
Affordable drawer boxes
AWI Premium Grade
Max height 24″, Minimum height 2"
No additional setup charges for odd heights
Exceptional joint for plywood's and solids
Custom grade for MDF Core melamine's
Wooden Drawer Box Styles
Dovetail Drawer Boxes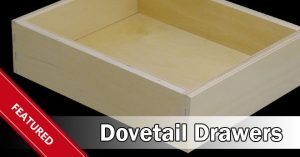 Dovetail drawer boxes are our specialty. See the different types of Premade Dovetail Drawer Boxes we sell below.
Solid Wood Drawer Boxes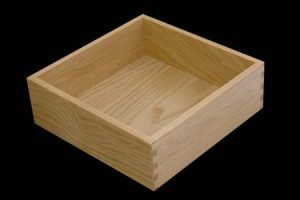 Before solid wood is used to make dovetail drawer boxes it is prepared by buffing, sanding, and finishing the wood so it is as durable as it is beautiful. This helps with the appearance of your drawers when they are open, and it drastically improves the lifespan of your custom drawer boxes.
Melamine Drawer Boxes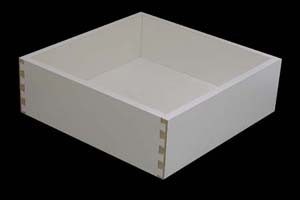 Melamine is a synthetic product that is typically particle board that is covered with a plastic based type coating. The coating makes the drawers stronger and helps with the appearance of the drawers. They are easy to clean and are cost effective options.
Plywood Drawer Boxes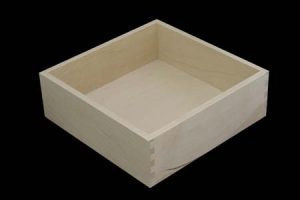 Another option homeowners have when choosing the quality of their drawer boxes is plywood. Plywood is created by layering two or more layers of thin wood with their grain patterns alternating. For drawer boxes it is best to use 9 ply thick plywood so the drawer will have adequate strength and longevity. When thinner sections of plywood or substandard plywood tends to warp and sag over time. It is important to use quality raw materials in the production of drawer boxes for your kitchen, or anywhere else you need drawers.
Shop Plywood Drawer Boxes
Dowel Drawer Boxes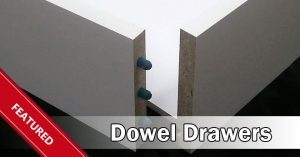 Shop Premade Dowel Drawer Boxes
Drawer Box Kits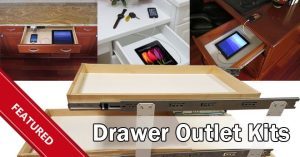 Drawer Box Sizes & Options
Drawer Sizes
OPTION 1: (1/4" Bottom):
Bottom raised 3/8" from bottom edge of drawer box. We use this sizing on all standard boxes receiving bottom mount or side mount drawer glides.
OPTION 2: (1/4" Bottom):
Bottom raised a 1/2" from bottom edge of drawer box. We use this on all boxes receiving soft-close under mount drawer glides.
OPTION 3: (1/2" Bottom):
Both options 1 and 2 apply for 1/2" bottoms with the exception of under mount glides. If bottoms being raised 1/2" up there will be a hole approximately 1/4" wide where the groove goes through the side and can't be hidden by the dovetail.
Custom Drawer Boxes
If you are designing a new kitchen or you are replacing a kitchen drawer having the right custom drawer boxes helps fit your exact specifications.  Every order is custom from Drawer Connection as you tell us the thickness, type of material, and size of drawer boxes you need.  We build to your custom drawer box specifications and offer the highest quality dovetail joint or dowel joints available.
Custom Drawer Box Options
You can order your custom drawer boxes from Drawer Connection completely ready to install in your cabinets or you can choose to have it flat packed and assemble them yourself when they are needed.  This makes it easy and simple for both homeowners replacing a drawer and cabinet installation companies that want read to assemble drawers in stock for quick projects.
Finishing – You can order your drawer boxes finished or unfinished to fit the needs of your project.
Notching – Your custom drawer boxes can be notched to have undermount drawer slides installed.
Ready To Assemble – We offer our Fast Pack drawer boxes which come ready to assemble.
Laser Engraving – If you want to have your company logo or family name engraved inside your drawers
Power Outlet Kits – We offer drawer outlet kits so you can plug in your USB or outlet power devices.
Drawer Glides – You can choose full extension side mount drawer glides or softclose under mount drawer glides, whichever fits your needs best.
File Drawers – If your needs include storing files in your drawers we can notch for file organization.
Drawer Dividers – You can choose fixed, nailed, loose, or dadoed dividers to keep you organized.
Drawer Scoops – For easy opening scoops can be cut in the front of the box as fingerholds.
Angled Drawer Boxes – Great for under sinks, pantry rollouts, and storing your pots and pans.
Replacement Kitchen Cabinet Drawers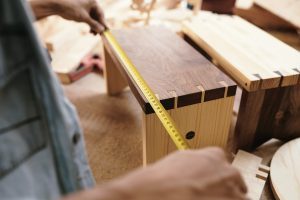 Our kitchen drawers many times end up as "catch-alls". This can mean they become overloaded and have increased weight. This puts pressure on the hardware, materials, and especially the drawer joints. When we are in a hurry we also end up pulling harder on the faces and hardware of our drawers while we are enjoying cooking in our kitchens.
Furthermore, the "tool drawer" most of us have lurking in our kitchens, ends up being a tool box full of heavy hand tools, nails, and all sorts of hardware. Having cheap drawer boxes in these situations means that the drawers fall apart and spill their contents under your cabinetry. Investing in quality drawer boxes helps your beautiful new kitchen cabinetry last longer and be more enjoyable.
Quality drawer boxes might cost a little more up front, but they will outlast the alternatives. Dovetail joinery is one of the most durable and strongest types of joinery that can be used to make drawer boxes. They include the use of wood adhesives to increase their strength and have interlocking sections of wood that act a bit like interlaced fingers which hold the drawer together. Dovetail joints are used with both solid woods and composite materials. Dowel joints are also used to make quality drawer boxes.
Drawer Box Kits
Drawer Connection offers a number of drawer box kits. We offer drawer box kits to build your drawer boxes. Parts are made to your specifications and shipped flat to reduce shipping costs, and storage if you want to have back stock without taking up much room. We also offer power outlet kits for drawers and slide out shelf kits.
Shop Drawer Box Kits
Unassembled Premade Drawer Box Kits
Clients can choose to have their custom made drawers shipped unassembled. This option is great for shipping longer distances and taking up less room until the drawer boxes are needed.  We make some of the highest quality and longest lasting drawer box kits in the industry and because of that you might need a rubber mallet to fit the snug joints together. Including the application of wood glue, as we do when we assemble drawer boxes before shipping, is a good measure to make the drawers last as long as possible.
Shop Premade Drawer Boxes
Power Outlet Drawer Box Kits
Having outlets inside your drawers cuts down on clutter, is reliable, and designed to be safe. There are three categories of drawer power outlets that we offer.  These are Docking Drawer™, Docking Drawer Slim USB™, and Style & Might Drawer™.  Each of these designs include UL listed circuit breakers which ensure safe operation. Style & Mighty Drawer™ include a UL Listed thermostat which cuts the power should the temperature exceed 120°F.
The three categories of drawer box outlet kits offer combination outlets, USB, or just AC outlets. These outlet kits have been quality and durability tested by cycling the opening and closing of drawers fitted with the outlet kits.  The cycles went for 500,000 repetitions every 15 minutes to simulate 30 years of use. This simulated test proves that the outlets are built to last.  See below for more details on our drawer box kits for power outlets.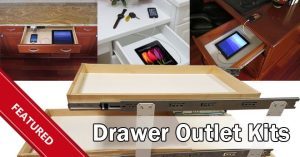 Shop Drawers With Power Outlets
Pull Out Shelf Kits
Ordering pull out shelf kits transforms your shelves from static and stationary elements to working like drawers. These drawer-like kits make it so your shelves will roll out to make reaching anything in your cabinets a snap. This is great for people with sore backs, limited mobility, or anyone who wants to have an easier to use and better organized cabinets.
Shop Pull Out Shelf Kits
Buy Longer Lasting Custom Drawer Boxes From DC Drawers
Quality wooden drawer boxes come from using the right materials, the right fasteners, the right types of drawer joinery, and skilled craftsmen who can build long lasting drawer boxes. Avoid saving money in the short term and invest a little extra money in adding quality drawers to your kitchen, bathroom, or anywhere else you need reliable storage options.
If you are a homeowner or cabinetry contractor and are looking for a new manufacturer of premade drawer boxes Drawer Connection is your source for quick turn around, quality products, and exceptional customer service. If you are interested in buying cheap unfinished replacement cabinet doors, visit CabinetDoors.com. CabinetDoor.com also offers cheap cabinet doors.
DC Drawers is your trusted supplier for draw boxes and accessories. Our professionals can save you money and deliver the finest quality products customized to your specifications. Use the button above to get free quotes that are always available 24/7 in real time via our ordering page. Give us a call today to talk about the options we have available or place and order at 877-917-4887.